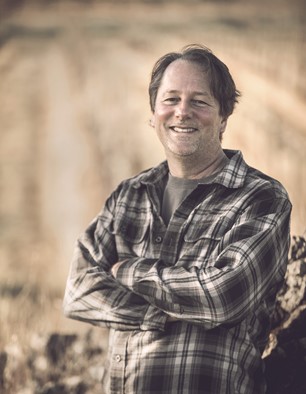 Early June, 2020 
Friends, 
Megan, Ella, and I hope this finds you safe and well.  
What a difference a few days make.  Earlier this month, we, along with the rest of the state, endured our first small heat wave of the year. Today, beautiful late spring weather has returned as Mother Nature has once again turned on our neighborhood's natural air conditioner. The cool winds and fog from nearby Monterey Bay are once again flowing our direction, mitigating the unseasonably warm mid-90s temps of a couple weeks ago.      
On the estate's S.V., TimCat, and Dwarf Oak blocks, almost all of the varieties are in full bloom and 'set.' Despite some later-than-normal rain in March and April, conditions throughout Sarah's look superb so far. This is the time of the year when the team is out among the rows doing some leaf pulling and shoot thinning to decrease vigor and green growth, setting up the vines to focus on fruit production and eventual ripening. Despite those early spring rains, disease pressure seems low so far, hopefully indicating a lack of mildew as the bunches continue to form. 
It is also a busy time in the S.V. cellar – we are bottling some wines from previous vintages and assessing/blending tanks and barrels from last year's harvest. Right now, I'm especially liking the young 2019 Pinot Noirs that have been barreled down for several months of French oak aging. I'm sensing a bit of a pattern as I taste through the barrels – the '19s seem to be fairly precocious, with deep color and a lot of fresh, showy, berry, plum, and spice flavors. They haven't been in the oak that long yet, so their in-your-face fruit component is definitely front and center right now. Will keep you posted on their development but so far, I'm really enthusiastic about their potential.        
Have a grape growing or winemaking question you've always wanted to ask? Please send it along to Proprietor@SarahsVineyard.com and I'll do my best to work the answer into this ongoing blog. An oft-asked question these days is when will the S.V. Tasting Room re-open? As of this writing, I don't have an exact answer – please know we are as anxious as you to see our friends and patrons once again in the TR and on the patio enjoying our latest and greatest. When we do re-open, it will be with conscientious protocols in place to ensure the well-being of our guests and S.V. team, while still offering the warm hospitality we are known for. In the meantime, please take advantage of our online ordering and curbside pick-up. We sure do appreciate your support!  
Until next time, stay well, take care of each other, and we'll hopefully see you soon! 
Tim
April 2020
Friends,
I hope this finds you and your family and friends well and safe during this strange time. Spring has arrived in full force here in our little corner of the Mt. Madonna / Hecker Pass district, keeping the crew and I busy among the vines during bud break and bloom. It's a beautiful, special time of the year that reminds us that Mother Nature has her own ongoing plan, despite the current health crisis. 
I very much miss the daily interaction with you while the Tasting Room is closed. This new "Tim's Blog" section is being launched as a place where I can communicate directly with our patrons and do deeper dives on vineyard and winemaking topics that will hopefully be of interest to you. Check back regularly as I get up-to-speed with regular blog postings. 
Please stay in touch; you can email me with questions, comments or suggestions for blog topics: proprietor@sarahsvineyard.com. Until we can meet again in-person, thank you for your friendship and support and stay well!
Tim Slater, Proprietor  
P.S.  many of you often ask about our newest S.V. team member, our daughter Ella. She is doing great, growing quickly, and developing quite the personality. We sometimes share photos of Ella on our social media channels - please follow @SarahsVineyard on Facebook, Instagram, and Twitter for the latest.